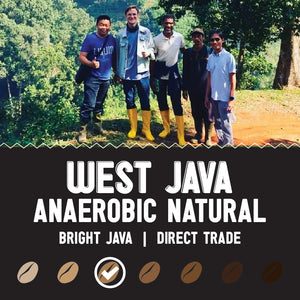 Limited Quantities. 
West Java Cikole Natural
A Bright Java Coffee.
Bright Java has partnered with an Indonesian man in the Cikole region of West Java, he takes personal responsibility for the quality of his coffee from beginning to end, and usually sells out of his spectacular offerings quickly.
This offering is an anaerobic natural. The first few days are a fresh fruit fermentation process in plastic bags. The coffee cherries are sealed in plastic bags and laid out under the sun to ferment. The natural sugars in the coffee cherries feed micro organisms that begin the fermentation process. Then after they're getting the "ripe" aroma they start laying them out in the sun on tarps and moving them every hour. Eventually they are moved to the greenhouse where the drying process is completed over another 2 or 3 weeks.
 Click Here to discover more about this delicious coffee.
| | |
| --- | --- |
| Process | Honey |
| Tasting Notes | Melon, Honeysuckle, Passion fruit |
| Cultivar | |
| Elevation | 1350-1600 MASL |
| Region | Central Java |
| Crop Year | 2021 |
Packaged in 12oz. Bags (Whole Bean or Ground)