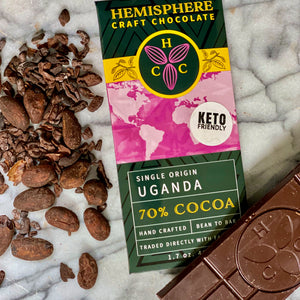 *select "shipping " above for our policy on shipping chocolate in warm weather months
This bar is Keto Friendly!!
What is Allulose?
Nature's Rare Sugar.  Clean sugar taste, non-GMO, Keto Certified, 0 net carbs, No glucemic impact, Gluten-Free, Vegan, Kosher, Organic, and does not promote tootch decay...WHAT? you will not believe this is Not Sugar
The America's Blend 70% Dark
Direct Trade
Ingredients | 70% fresh roasted cocoa nibs, Allulose
1.7 oz. | 40 grams
Hemisphere Coffee Roasters is working with our coffee-producing partner/farms to bring you their direct-trade cacao/chocolate. 
We sort, roast, grind, winnow, refine, and temper at our location in Mechanicsburg, Ohio