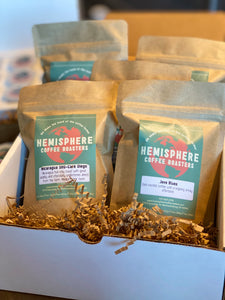 Not ready to commit to a full bag of coffee?
Try our sample pack! Get 5 - 3oz. bags of our most popular Direct-Trade coffees. 
Ground
Nicaragua "Cafe Diego" - Medium/Dark roast  Good acidity, chocolaty undertones.
Sulawesi Toraja "Bright Java" - Light Roast  Rich chocolate, buttery almond, with a hint of cinnamon and spice. Smooth with light acidity. 
Java Blues - Dark Roast  A blend of 3 Direct-Trade Coffees, Our darkest roast with a lingering smoky aftertaste.
Breakfast Blend - Medium Roast  A smooth blend that is good any time of day!
Espresso Honey Blend - Light/Medium Roast  Bright, Sweet, slightly fruited.