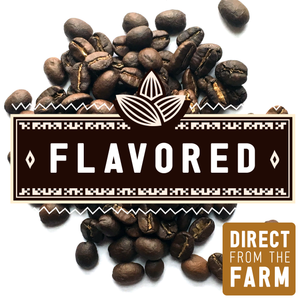 Flavoring is added to our Nicaragua, Cafe Diego coffee. Select your favorite flavor, ground or whole bean, regular or decaf, and we take care of the rest! 5 lb.
Choose from the following flavors:
Blueberry Cobbler- Ripe blueberry with warm cinnamon vanilla notes   
Buckeye- Chocolate and Peanut Butter, like the candy. 
Caramel Vanilla- Brown sugar notes swirled with smooth sweet vanilla
Chocolate Mint- Sweet chocolate and refreshing mint
Chocolate Raspberry- Chocolate blended with raspberries     
Cinnamon Hazelnut- Sweet cinnamon with hazelnut notes    
Coffee Cake- Like a trip to the bakery 
Creme Brule'- Buttery blend of custard and vanilla    
French Vanilla- Sweet, rich, and creamy
Hazelnut- A classic nutty flavor
Heavenly Delight- A creation of chocolate, creamy caramel, sweet vanilla and cherry.
Jamaican Me Crazy- Creamy caramel vanilla with a Jamaican rum flavor.
Jungle Nut- A toasted blend of hazelnut, chestnut, almond and coconut with creamy caramel.
Scottish Grogg- Butterscotch and chestnut flavors with a slight rum note.
Toasted Southern Pecan- Buttery with notes of warm toasted pecans 
White Chocolate Macadamia Nut- The richness of white chocolate with nutty undertones