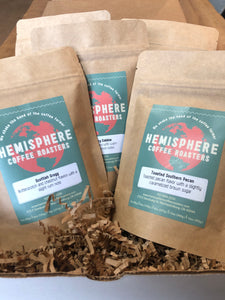 Not ready to commit to a full bag of coffee?
Try our sample pack! Get 5 - 3oz. bags of our most popular Flavored coffees. 
All coffee will be ground
Jamaican Me Crazy- Creamy caramel vanilla with a Jamaican rum flavor.
Scottish Grogg- Butterscotch and chestnut flavors with a slight rum note.

Buckeye- Chocolate and Peanut Butter, like the candy. 

Toasted Southern Pecan- Buttery with notes of warm toasted pecans

Blueberry Cobbler- Ripe blueberry with warm cinnamon vanilla notes